Marriott Residence Inn in Central San Diego
5400 Kearny Mesa Road
San Diego, California 92111 USA
Phone: 1-858-278-2100
http://www.residenceinncentral.com
Free Breakfast, Parking, High Speed Internet, Centrally Located, Spacious Rooms
$99/ Studio Suite:
450 square feet, 1 queen bed, 1 sofa bed, full kitchen, 1 bathroom, living room area and work desk GROUPCODE:
BUIBUIA
$149/2 Bedroom+2 bathroom Penthouse Suite:
1,000 square feet, bi-level, loft style, 1 king bedroom, 1 queen bedroom, 1 sofa bed, 2 full bathrooms full kitchen, living room area and fireplace GROUPCODE:
BUIBUIB
$129/Queen+queen Suite:
525 square feet, 2 queen beds, 1 sofa bed, full kitchen, 1 bathroom, living room area, work desk and fireplace GROUPCODE:
BUIBUIC
Cancellations have a mandatory 48 Hours advance notice.
Mention "
Bui/Nguyen Wedding
" March 21st, for these superb rates.
---
Price Assurance on Orbitz

With the winter sale on Orbitz,
it is a better value if you book a hotel from this site for 50% off
original price as oppose to the 10% discounts given to guests of weddings.
Staying within these areas are a sure bet to be close to the wedding site and reception: Downtown, Mission Valley, Kearny Mesa, Mira Mesa, La Jolla, Mission Bay.
Beyond 20 minutes driving to either location will include: Coronado, El Cajon, Rancho Bernardo, Del Mar, National City
Goodside: Great Value, and refundable per Orbitz, but not necessarily the Hotel, great for research of hotel property, pictures, and a must is
traveler reviews and recommendations
!
Downside: The hotel may impose non-refundable fine print on the hotel and room price. A common mistake if you don't look into reviews and recommendations
---

Priceline negotiation Savvy

I was able to book two room at the 3-star Woodfin Suites 1/2 a mile from the reception site for $44 a night before tax.

How? Through priceline. This take a little more work. I indicated the star-level accomodations I wanted, and indicated the area of which I would like to stay at, and started bidding at $40 per night. When that wasn't accepted, I added 1 new location (coronado, La Jolla, Del Mar) and increased my bid by 2 dollars at a time. (Hotel Circle, Point Loma has some of the older accomodations so I do not recommend it)

The trickiness is that you have to make adjustments to your request each time, but you can not take away or reduce your request. Once the bid is accepted, your credit card is billed automatically, which means that they asked for your billing information first.

Downside: Billing information is given upfront, you don't know where you're staying exactly, but you know the star-rating on your hotel, no refunds.

Goodside: Ultra-low prices without having to crash on a friend's couch

---

Pearl Hotel

Ultra cool revamped boutique hotel reminiscent of mid-century small hotels. I haven't stayed here yet, but one similar in mid-century mecca Palms Spring, CA. Limited rooms with urban decor. Less than $100 and the personal attention of a movie star. Parking is free and has street parking. It can be a little noisy on a main street, but the hotel restaurant is highly recommended.
Check out their website
www.thepearlsd.com
for coupons under
walletsavers
.
---
Powered by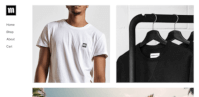 Create your own unique website with customizable templates.